Adams Idea Pro Forged Irons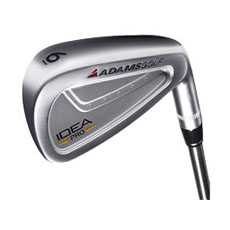 Adams Golf is gradually making themselves known as one of the industry leaders in forged irons and hybrids, and the Adams Idea Pro Forged Irons set is no exception. According to Adams, the Pro Forged were actually inspired by the A-Tour iron which never made it to market. Basically, they say, it can be considered a "retail friendly" version of the A-Tour
The Adams Idea Pro Forged Irons feature a shallow cavity to give a measure of forgiveness to less-than-perfect hits so that the ball doesn't veer too far off course and doesn't lose too much distance. Also, the hybrids in the set are forgiving as well. While it's been said that they doesn't get as much height as other hybrids, such as the Callaway FT Fusion Hybrid, they still provide a better ball flight than forged irons.
In addition to their performance, the Adams Idea Pro Forged Irons are simply gorgeous to look at. The heads are forged with a soft 8620 carbon steel and are plated with a non-glare satin finish. And instead of unnecessary or even gaudy logos or designs on the faces, they feature only a slight frosting. The shafts are .355" taper-tipped models with a Golf Pride Tour Velvet grip. Arguably, these taper-tipped shafts are better than parallel-tipped shafts both in how they feel and how they perform.
Overall, the Adams Idea Pro Forged Irons is a solid forged combo set. While Adams may not yet be a front-runner among better players, with sets like this one, they're closing the gap rapidly.
Forged Irons Deals on eBay
Deals On Amazon
The AWS Access Key Id you provided does not exist in our records.

More Adams Forged Iron Reviews
| | |
| --- | --- |
| | Adams Idea Pro A12 Forged IronsNew A12 Forged Irons are decent irons mainly aiming for skilled players. They can offer you progressive offset and much more! |