Ben Hogan Apex 2006 Forged Irons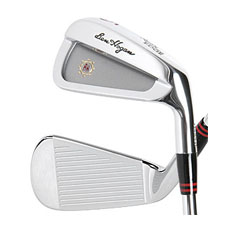 The Ben Hogan Apex Forged 2006 Irons really encapsulate all of the features expected from a Ben Hogan club. Forged from 1020 carbon steel, the Apex Forged irons have a soft feel and yet still deliver maximum height and distance. In addition, the grooves on the face are designed at the highest possible width as designed by the USGA for excellent control around greens.
Because the weight is repositioned lower in the clubhead, it grants the user a great combination of workability and forgiveness. The steel shaft is a True Temper Dynamic Gold, which is considered the leading shaft in golf today. Also, the grip is the usual Ben Hogan Velvet for ideal comfort and control.
To round out the clubs' excellent performance, they're quite handsome as well with their nickel/chrome plated finish and the standard Ben Hogan logo. They each have an optimized leading edge, coupled with a traditional head shape to not only add to their appearance, but also to make them more precise and easy to align.
Because the Apex Forged irons are forged for height and distance in the drives, they tend to be a little less forgiving than cast iron clubs, but regardless of this, many people swear by their Apex Forged irons. They do have a measure of forgiveness built in for slightly off center shots, but the larger the mistake in the swing, the less forgiving the clubs tend to be.
To sum it all up, the Ben Hogan Apex Forged 2006 Irons are sturdy clubs that will grant their user maximum distance, a great measure of control, and superior performance for above average golfers.
Hogan Apex 2006 Deals on eBay
Deals On Amazon
The AWS Access Key Id you provided does not exist in our records.

More Ben Hogan Forged Iron Reviews