Ben Hogan Apex Edge Pro Forged Irons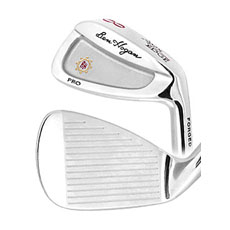 The Ben Hogan Apex Edge Pro Forged Irons falls somewhere between the Apex Blades and the earlier Apex Edges. The whole set weighs in at perfect D-2 swing weight, which is hard to find in rack irons, so it's easy to see the care that went into them. They were designed to appeal to more demanding players, and as a result, the club heads within in the set vary between clubs. Made in the United States, the Apex Edge Pro irons are one-piece irons forged from 1025 carbon steel with a cavity back.
Despite feeling a little on the light side, these irons are quite capable of keeping up with fast swings. The Hogan Apex steel shafts react in a similar way to the True Temper Dynamic Gold shafts, but with a somewhat softer feel good for those soft shots. Simply put, for anyone looking for height and distance, these irons are perfect.
The biggest drawback to the Apex Edge Pro irons is that they're less forgiving than other irons. While they do have a measure of forgiveness for slightly off center shots, they do tend to emphasize larger mistakes by veering far off course and losing quite a bit of distance. For this reason, these irons are intended for average to good golfers.
All in all, the Ben Hogan Apex Edge Pro Forged Irons are solid clubs that can keep up with all but the strongest swings. They're ideal for demanding golfers with good control over their swing and represent the excellent level of quality commonly seen in Ben Hogan clubs.
Hogan Edge Pro's on eBay
Deals On Amazon
The AWS Access Key Id you provided does not exist in our records.

More Ben Hogan Forged Iron Reviews
The Ben Hogan Apex Forged 2006 Irons really encapsulate all of the features expected from a Ben Hogan club.