Bridgestone J36 Forged Irons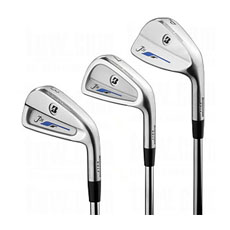 The Bridgestone J36 Forged Irons come in several different varieties ranging from Cavity Back irons, Pocket Cavity irons, and Blade Irons. Best of all, for those looking to harness the benefits from each type of club, Bridgestone has even launched a combo set that includes some of all three types, giving golfers the benefit of more forgiveness with the longer irons and more precision in the shorter irons.
Premium forged from 1020 mild carbon steel, the Bridgestone J36 irons ideal for professional to low-handicap amateurs. The cavity back irons offer more forgiveness but still provide the same premium forged feel and the precision of the blades. Also, the tapered sole design makes them easier to work than other cavity backs on the market, such as the Wishon 560MC.
The J36 Forged Blades have a high center of gravity which really optimizes ball flight and, combined with the V grooves, provide maximum control. In addition, the blades' compact head size and progressive offset increase shot shaping capabilities.
The J36 Forged Pocket Cavity irons are actually the result of the collaboration between Bridgestone Golf engineers and staff players Fred Couples and Stuart Appleby. The pocket cavity is designed specially to have a higher moment of inertia (MOI) for maximum forgiveness, but perhaps not as much as Tour Max's GeoMax High MOI driver which is designed specifically for high MOI.
Each of the J36 Forged irons feature a Precision Rifle Project X Steel shaft available in 5.0 or 6.0 flex and a Golf Pride Tour velvet grip.
The bottom line is that the Bridgestone J36 Forged Irons offer versatility and performance to serious golfers looking to improve their game.
Bridgestone J36 Irons on eBay
Deals On Amazon
The AWS Access Key Id you provided does not exist in our records.

More Bridgestone Forged Iron Reviews
Bridgestone Precept J33 Forged Irons

Like several other Bridgestone products, the Precept J33 Forged Irons are the product of the collaboration Bridgestone Golf and staff golfers Fred Couples and Stuart Appleby.