Bridgestone J-38 Dual Cavity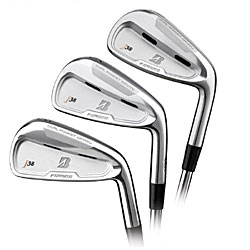 Bridgestone is involved in golf since 1935. Bridgestone was the elite in the golf industry, especially in Japan, but later began to penetrate the U.S. market, what in fact can not be a surprise.
As the headline suggests, these clubs have a dual cavity back causing high forgiveness for anybody in the 0-15 handicap range. The blade is just a little thinner than topline and soles, so the set up is really good. They are also forged, so you get that sweet feel.
In terms of appearance, they have a simply classical design with no features added. These clubs seem to be quite light-weighted compared to competitors. The lighter iron means faster swing and further distance. Every gram could make a difference. But despite their lower weight and size, they have great balance and also all basic properties are good enough.
We can compare this stuff to e.x. Titleist's AP1 / AP2 series and that is the proof, you should certainly give J38's a try, you won't be disappointed
Bridgestone J38 Deals on eBay
Deals On Amazon
The AWS Access Key Id you provided does not exist in our records.

More Bridgestone Forged Iron Reviews
The Bridgestone J36 Forged Irons come in several different varieties ranging from Cavity Back irons, Pocket Cavity irons, and Blade Irons.

Bridgestone Precept J33 Forged Irons
Like several other Bridgestone products, the Precept J33 Forged Irons are the product of the collaboration Bridgestone Golf and staff golfers Fred Couples and Stuart Appleby.