Bridgestone Precept J33 Forged Irons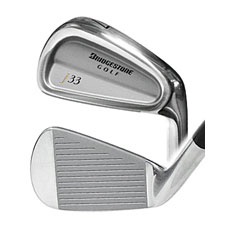 Like several other Bridgestone products, the Precept J33 Forged Irons are the product of the collaboration Bridgestone Golf and staff golfers Fred Couples and Stuart Appleby. The J33 Forged cavity back irons have been created with many stroke-saving features that make them possibly the most forgiving club Bridgestone has to offer.
For example, because of its cavity back design, the weight is pushed to the club head perimeter thereby granting more forgiveness, added consistency, and a higher moment of inertia to the user. Also, the J33 irons have a progressive horizontal center of gravity that changes from a low CG in the long irons (to get the ball up quickly) to a high CG in the short irons, which is ideal for spin and distance control.
Many golfers who have tried the J33 forged irons claim that there isn't a shot they can't do with the J33 irons. Compared to the Mizuno MX23 irons, the J33's get a little less distance, but because the MX23's have a larger head, the Bridgestone J33's are much easier to shape shots with.
Other features of the Bridgestone J33 Forged Irons include a progressive offset design which inspires confidence, a blunted leading edge which reduces digging and skipping. Also, they're forged from mild 1020 carbon steel for a soft feel and feature a Golf Pride Tour Velvet grip. They come with a choice of a True Temper Dynamic Gold R300, S300 or X100 shaft.
All in all, the Bridgestone Precept J33 Forged Irons offer a wide range of golfers better precision, more forgiveness, and an excellent feel.
eBay's Bridgestone Precept J33 Deals
Deals On Amazon
The AWS Access Key Id you provided does not exist in our records.

More Bridgestone Forged Iron Reviews
The Bridgestone J36 Forged Irons come in several different varieties ranging from Cavity Back irons, Pocket Cavity irons, and Blade Irons.