Callaway X-Forged Irons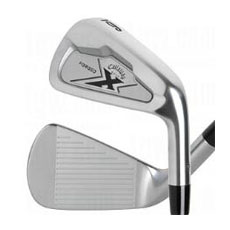 Callaway X-Forged Irons take the best the Callaway has to offer and combine it all into a set of irons that are perfect for elite golfers. Similar to the X-Tour, which was the previous big success in Calaway forged irons, the X-Forged improves upon the design by trimming away some of the excess bulkiness that hindered the X-Tour ever so slightly.
Forged from soft 1020 carbon steel, the new X-Forged irons are loaded with features that make them not only excellent to use on the golf course because of their forgiveness and performance, but attractive to look at as well.
The carbon steel forging gives these irons an incredibly soft feel to provide responsive feedback immediately upon impact. Also, because the center of gravity is positioned lower in the long irons and moves progressively higher into the shorter irons, the trajectory from these clubs is incredible and the amount of precision and control is equally impressive. The notch back design makes the X-Forged irons stable through impact, as well as enhancing the feel even further and keeping the center of gravity close to the club face.
Many people who were disappointed with Callaway's X-Tour were pleasantly surprised with the release of the X-Forged and even consider it to be a rival of the Mizuno MP-60, although the MP-60 has a somewhat larger "sweet spot".
However, all in all, the Callaway X-Forged Irons stand out as a superior forged iron set with excellent performance and with remarkable forgiveness for a player's iron as well.
X-Forged Irons Deals on eBay
Deals On Amazon
The AWS Access Key Id you provided does not exist in our records.

More Callaway Blade Iron Reviews
The Callaway X Tour Forged Irons were the first forged iron to be developed by Callaway.