Callaway X-Tour Forged Irons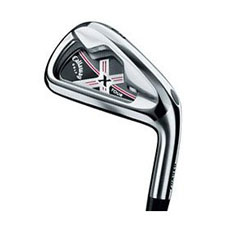 The Callaway X Tour Forged Irons were the first forged iron to be developed by Callaway. Designed by Roger Cleveland, the X Tour Irons combines the added benefits of forged irons with the features that Callaway enthusiasts have come to expect.
The X Tours have a cavity back that actually takes up the entire back of the club--a fairly rare feature, but one that maximizes the club's forgiveness. Also, the 1020 forged carbon face is laser welded on the body, thereby providing a soft, desirable feel and a very forgiving clubhead. There are some who say, however, that while the X Tours do have a soft feel, it's not as good as a Mizuno forged iron.
The two-piece design of the X Tour irons makes it so that Callaway was able to incorporate their 360 degree undercut channel with notch weighting, which allows for higher moment of inertia to make the club more forgiving as well as consistent. In addition, the slightly modified design of the hosel gives these irons a lower center of gravity for better playability.
Aesthetically, the X Tours have a cambered topline, making them look more traditional. However, compared to the Taylor Made TP forged irons, the X Tours seem a little bulky, but the added thickness increases these clubs' forgiveness. Also, many golfers prefer the smaller head and squarer toe look that the X Tours feature. The standard shaft is True Temper Dynamic Gold steel shafts in flexes of R300, S300, and X100.
Overall, the Callaway X Tour Forged Irons are very forgiving, very versatile, and despite being a little on the bulky side, ideal for traditional, more accomplished golfers who are looking for maximum workability.
Callaway X-Tour Irons on eBay
Deals On Amazon
The AWS Access Key Id you provided does not exist in our records.

More Callaway Forged Iron Reviews
Callaway X-Forged Irons take the best the Callaway has to offer and combine it all into a set of irons that are perfect for elite golfers.