Callaway RAZR X Forged irons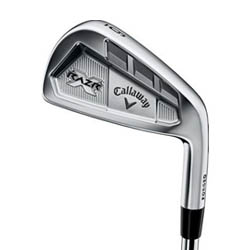 Callaway is definitely heading forward with their clubs. That is no doubt. Last series of their blades were very popular – X line made many impressions and deserved a lot of respect. New Razr X line has X proudly inscribed on the backside of the club. This doesn't signify any continuity to previous X line. New line is based on new and different technologies. Models of Razr X line are Razr X Tour and Razr X forged. They are forged from 1020 carbon steel.
Extremely large hitting area determine these irons to extremely large number of various players. Razr X set is gaining benefits from new technologies. Such as variable face thickness technology. Due to this we can experience great sweet spot and solid ball speed on imperfect hits. Weight has been adjusted by 30 gram weight placed in the back of the club. Center of gravity has been put lower than it was at X-22. Worth mentioning are also strong lofts. They allows your balls go quite a far. Aesthetically it is not any treasure, however if you like Callaway designs, it will definitely not let you down. You can get them either in graphite shaft or steel one.
eBay Callaway RAZR X Deals
Deals On Amazon
The AWS Access Key Id you provided does not exist in our records.

More Callaway forged irons Reviews
| | |
| --- | --- |
| | Callaway X-Tour Forged Irons The Callaway X Tour Forged Irons were the first forged iron to be developed by Callaway. |
| | Callaway X-Forged Irons Callaway X-Forged Irons take the best the Callaway has to offer and combine it all into a set of irons that are perfect for elite golfers. |