Cleveland TA1 Forged Irons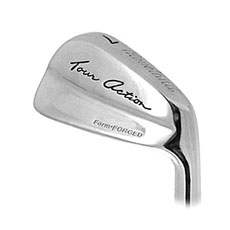 Cleveland TA1 Forged Irons provide a great drive and a great feel for anyone who's confident in their swing. Form-forged from 8620 carbon steel, the TA1 irons are solid, provide excellent feedback immediately upon impact, and allow their users to spin their ball like a pro. However, with these great features come one very big drawback -- the TA1 irons are ruthlessly unforgiving. To put it simply, if the ball is hit off center, it shows. A lot.
However, for experienced golfers, these clubs have an improved center of gravity for a consistent and controllable ball trajectory, as well as increasing the weight along the whole length of the clubhead to emphasize the solid feel and give maximum feedback. Additionally, the faces and grooves are computer-milled for more precise shots. Many experienced golfers compare the TA1 irons to Titleist, Taylor Made, and Mizuno irons, which are well known for their excellent performance.
And not only do they perform well, but the TA1 irons have a strikingly handsome appearance, as well with their gun metal satin finish to eliminate glare. In addition, they have a traditional appearance which many golfers favor, and a uniform design throughout the entire set. Also, they have a Dynamic Gold Steel Shaft for great consistency and feedback, and Cleveland Tour Wrap grips.
All in all, the Cleveland TA1 Forged Irons are an excellent set of golf clubs for experienced golfers who can consistently hit the sweet spot, but average or beginning golfers should steer clear of them.
Cleveland TA1 Irons Deals on eBay
Deals On Amazon
The AWS Access Key Id you provided does not exist in our records.

More Cleveland Forged Iron Reviews
Cleveland TA3 Form Forged Irons follow in the TA1's footsteps but offer a much larger margin of forgiveness by comparison.

Cleveland TA3 Tour Action Forged Irons
The Cleveland TA3 Tour Action Irons are a great set of irons for low-handicap players.