Cleveland TA3 Form Forged Irons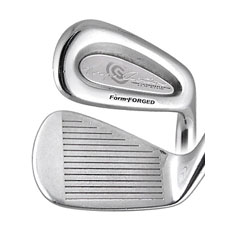 Cleveland TA3 Form Forged Irons follow in the TA1's footsteps but offer a much larger margin of forgiveness by comparison. Forged from 8620 soft carbon steel, the TA3 irons have excellent consistency and a solid feel. While they are forgiving due to the slight cavity on the back of the club, they're still intended for use by golfers with a low handicap margin, and they're not nearly as forgiving as Bridgestone's J33 irons but they perform much better when in the hands of a good golfer.
With computer-milled faces and grooves, the TA3 irons are designed for maximum precision and control. Also, because of the use of the patented Vibration Absorbing System (VAS), every shot feels solid even if it's a little off center. For very off center shots, a slight vibration can be felt upon impact.
Also, the TA3 irons are very attractive to look at. Harder to find are the TA3's with an anti-glare gun metal finish, but they're also available with a chrome finish. Most of them are equipped with a Dynamic Gold shaft for lower trajectory, but some are available with rifle shafts as well. However, players who prefer the rifle shaft should check out the tour flighted version of the rifle shaft.
The bottom line is that the Cleveland TA3 Form Forged Irons are specifically intended for the better player in order for them to respond well. Despite the measure of forgiveness offered by the cavity back, high handicap players would be better served to check out other clubs in the Cleveland line.
eBay's Cleveland TA3 Form Iron Deals
Deals On Amazon
The AWS Access Key Id you provided does not exist in our records.

More Cleveland Forged Iron Reviews
Cleveland TA1 Forged Irons provide a great drive and a great feel for anyone who's confident in their swing.

Cleveland TA3 Tour Action Forged Irons
The Cleveland TA3 Tour Action Irons are a great set of irons for low-handicap players.