King Cobra S3 Forged Irons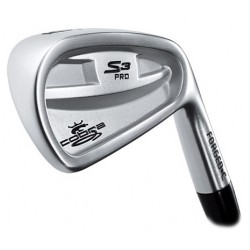 This is what you want, if you require US branded club in your bag. Cobra has finally made, what we were looking for. Nice design, good playability and acceptable price.
It has a simple head with classy and clean appearance. It is quite interesting, because most of nowadays clubs have a gaudy colors and badges. It is made from 1025 carbon steel. Sound is noticeable and someone could compare it to Titleist, but it is not true. The sound is lower and it is not much "American". Main "hardware" signs are 3-6 irons-Cavity back, 7-PW-Muscle Back and White GP Decade grips.
Anyway, whatever Cobra did, they did it right.
eBay Deals on Cobra S3 Irons
Deals On Amazon
The AWS Access Key Id you provided does not exist in our records.

More Cobra Forged Iron Reviews
The King Cobra Forged PRO CB Irons were designed with one main feature mind, and that is high trajectory.

King Cobra PRO MB Forged Irons
The King Cobra Forged PRO MB Irons were designed for accomplished players who want the soft feel of 1020 carbon steel along with all of the benefits that come from a higher level of engineering.