King Cobra PRO MB Forged Irons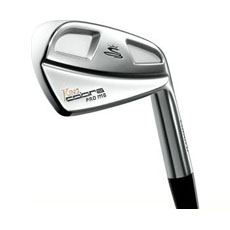 The King Cobra Forged PRO MB Irons were designed for accomplished players who want the soft feel of 1020 carbon steel along with all of the benefits that come from a higher level of engineering. These irons are all about maximum workability and sheer power. The entire set has a consistent D3 weight, and the muscle-back design allows that weight to be positioned directly behind the hitting area for power and control.
The MB's thin topline with its minimal offset and narrow sole allow the ball to be controlled by skilled players, and the tour-designed hosel works to position the center of gravity for mid-launch. Also, the round sole camber improves the irons' interaction with the turf. All of these features are geared to provide the maximum level of control and feedback.
As far as appearances go, the PRO MBs have a more classic look that better players tend to prefer. They're available with the True Temper Dynamic Gold S300 shaft or the Nippon N.S. Pro Steel shaft. Both are ideal for good accuracy and control. And the PRO MBs have a Cobra/Golf Pride Tour Velvet 0.600 Round 55D grip.
The bottom line is that the King Cobra Forged PRO MB Irons are excellent clubs all around. When compared to the PRO CB's which have a similar design, the PRO MB's were designed with the better player in mind, whereas the CB's are more forgiving and launch the ball higher. However, the Cobra PRO MB irons give the experienced golfer the traditional appearance and high level of control that they prefer.
Deals on eBay for King Cobra Pro MB Irons
Deals On Amazon
The AWS Access Key Id you provided does not exist in our records.

More King Cobra Forged Iron Reviews