KZG M Forged irons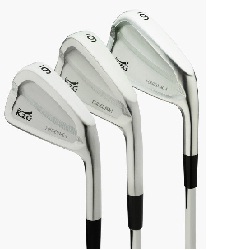 There are 3 kinds of clubs included in this series. They have similar design, but they have different club head sizes and weight. The point is you can have a mix of three different clubs and create you own, good set up.
The tree irons are:
- ME-I - ME means milled expert. This clubs have a small head size and they focus workability and control. Comes in 3-iron set.
- MA-I - MA means milled avid. This irons have a midsize profile and they are targeted to players, who prefer control and forgiveness. Comes in 3-iron set.
- MO-I - MO means milled oversize. This irons have a large heads and they are aimed to high handicappers. They focus on forgiveness and a higher trajectory. Comes in 4-iron set.
All three set are forged and available in right-handed only. The price starts at $129 per club, depending on golfers set up.
KZG M Irons Deals on eBay
Deals On Amazon for KZG M Irons
The AWS Access Key Id you provided does not exist in our records.

More KZG Forged Iron Reviews
KZG Forged II Irons

The KZG Forged II Irons are relatively versatile clubs that feature a cavity back design which gives them a good amount of forgiveness.