MacGregor MT Forged Irons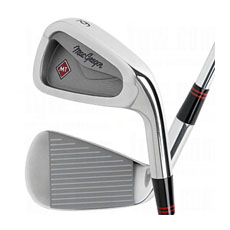 The MacGregor MT Forged Irons are designed for the mid-handicap players who would like a more traditional looking club that's still tailored to their skill level. The forged face of the club is welded to a stainless steel body, which uses Cup Face 360° Technology in order to allow the clubs to get more distance and be more accurate. This use of the Cup Face 360 Technology basically makes the entire club face very large sweet spot, or in other words, even if the ball is hit off-center, it still flies straight and true.
Forged from soft 1025 carbon steel, the MacGregor MT has a soft feel to it and gives pretty good feedback upon impact as well. In fact, the feel, feedback, and performance even outdo the MacTec NVG2 Mid irons. While the two are very close, most players reported a much better feel in the MacGregor MTs.
As mentioned above, the MacGregor MTs do have a more classic appearance, which many golfers prefer. However, it is a bit larger, more offset, and with a thicker sole than traditional irons, but it's barely noticeable. And the slightly enlarged features only serve to make the club more forgiving. They feature a Nippon NS Pro 950 steel shaft, available in regular or stiff flex and have a Golf Pride DD2 grip.
All of these features make the MacGregor MT Forged Irons perform wonderfully on the golf course with dead-on accuracy and jaw-dropping forgiveness. Any low to mid handicap players who are looking to improve their game would be well served to try out the MacGregor MTs.
MacGregor MT Irons Deals on eBay
Deals On Amazon for MacGregor MT's
The AWS Access Key Id you provided does not exist in our records.

More MacGregor Forged Iron Reviews
| | |
| --- | --- |
| | MacGregor V Foil Forged IronsThe MacGregor V Foil Forged Irons come in several different varieties, but all of them have features in common with one another. |