MacGregor V Foil Forged Irons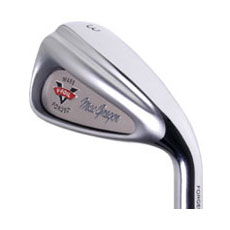 The MacGregor V Foil Forged Irons come in several different varieties, but all of them have features in common with one another. And those features make the MacGregor clubs stand out in the market more than most other brands.
For example, the V Foils all utilize the same induction heat treating technology. Basically it works by treating the club face with variable temperatures to change the structure of the metal. The benefits of this are that the ball springs off the club face faster in perfect shots, while at the same time working to keep the off-center shots straighter and lose less distance.
Also, another excellent feature in the V Foils is the fact that they have a localized center of gravity according to loft. What that means is that the long irons have a low, deep CG which gets better distance while still being forgiving, and that the CG gets progressively higher and closer to the club face in the short irons, giving them more workability and control.
Another unique feature of the V Foils is the use of two different kinds of steel to optimize performance in the longer irons as well as the shorter irons. The longer irons are forged with a medium carbon steel to get maximum distance, and the shorter irons are forged with a low carbon steel for better spin and control.
Overall, because of their unique use of features and technology, the MacGregor V Foil Forged Irons stand out as one of the better golf clubs for low to medium handicap players, alongside other well known manufacturers such as Mizuno and Callaway.
eBay Deals on MacGregor V Foil Irons
Deals On Amazon
The AWS Access Key Id you provided does not exist in our records.

More MacGregor Forged Iron Reviews
The MacGregor MT Forged Irons are designed for the mid-handicap players who would like a more traditional looking club that's still tailored to their skill level.