Maxfli Tour Limited Forged Irons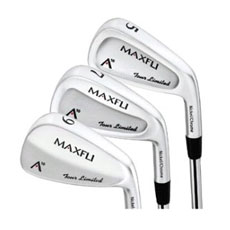 Maxfli is a brand more known for producing quality golf balls, as opposed to clubs. However, just because they're not well-known for their clubs doesn't mean they have nothing to offer. The Maxfli Tour Limited Forged Irons were one of the best clubs available back in their day, and despite being a little older than many clubs on the market, the Maxfli Tour Limited irons are still quite good for the medium to high handicapped player.
They're somewhat oversized in order to maximize the MOI (moment of inertia) and provide a low center of gravity. What this means is that these clubs get great distance, as well as hitting the ball high and accurately. They're also quite forgiving because some of the weight is in the perimeter. This creates a larger sweet spot so that off center hits don't veer too far off course and don't lose very much distance.
As mentioned above, the Maxfli Tour Limited irons are somewhat oversized, so golfers who prefer the classic appearance in the clubs will be disappointed by these. However, despite their size (which enhances their performance), the Maxfli Tour Limited irons are attractive with their chrome/nickel finish. They feature an excellent shaft which, for some reason, True Temper no longer makes. The True Temper Dynamic Golf PLUS is made from a slightly lighter weight steel with a mid flex point. For anyone whose swings their 5 iron in the 70-80 mph range, this shaft really does the trick.
All in all, the Maxfli Tour Limited Forged Irons are good clubs for average golfers. They're extremely forgiving and get great distance in the drives. While they're not Callaways, they're still a good, dependable set of golf clubs.
Maxfli Tour Limited eBay Deals
Deals On Amazon
The AWS Access Key Id you provided does not exist in our records.