Mizuno JPX-800 Irons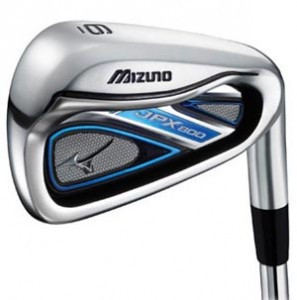 Mizuno JPX-800 are very interesting golf clubs. Most of the forged irons by Mizuno are made for low-handicap players. However, these are a big exception. What we have under the spotlight right now are great forged irons for the masses. They are very forgiving and long. Max Cor technology, Hot Metal faces construction and exotic pocket cavity featuring. Hot metal construction is a brand new process of making the club head. The club head is stronger and the impact on the ball speed is significant. Pocket cavity on the other side extends the sweet spot and brings center of gravity deeper. This is adding to the blades some extra forgiveness. You will notice it after a few hits or even miss-hits. Trippe cut sole is solid for every lie. Mizuno JPX-800 is a great choice for players who want to try forged irons and still desire forgiveness.
Aesthetically are those irons far beyond average. Every mid to high handicap Mizuno fan should consider buying them. They are available in either the Mizuno Graphite Exsar IS4 or the True Temper Dynalite. Be aware that they are available in Right Hand orientation only.
Mizuno JPX-800 Irons Deals on eBay
Deals On Amazon
The AWS Access Key Id you provided does not exist in our records.

More Mizuno Forged Iron Reviews
| | |
| --- | --- |
| | Mizuno MP-14 Forged IronsThe Mizuno MP-14 Forged Irons are the very clubs that helped Tiger Woods get to his first US Amateur Champs and then his first Masters. |
| | Mizuno MP-32 Forged IronsThe Mizuno MP 32 Forged Irons utilize the patented technology that Mizuno is well-known for in order to make yet another excellent set of clubs. |
| | Mizuno MP-57 Forged IronsThe Mizuno MP 57 is yet another forged iron in the Mizuno line. But just because there's a lot of them, doesn't mean that Mizuno values quantity over quality--quite the opposite, in fact. |
| | Mizuno MP-60 Forged IronsWith the Mizuno MP 60 Forged Irons, Mizuno combines their Grain Flow Forging technology and their Cut Muscle technology in order to make a cavity back club with outstanding performance. |
| | Mizuno MX-25 Forged IronsWith the Mizuno MX 25 Forged Irons, Mizuno attempted to improve upon it's best-selling iron ever--the MX 23. |
| | Mizuno MX-950 Forged IronsThe Mizuno MX 950 Forged Irons are one of the finest clubs in a long line of excellent clubs. Designed for mid to high handicap players, the MX 950s have it all. |
| | Mizuno MP-53 Forged IronsThe Mizuno MP-53 has two main features to show. These are huge forgiveness and great appearance. |