Mizuno MP-57 Forged Irons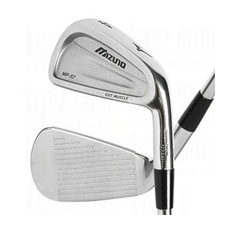 The Mizuno MP 57 is yet another forged iron in the Mizuno line. But just because there's a lot of them, doesn't mean that Mizuno values quantity over quality--quite the opposite, in fact. Unlike previous models, the Mizuno MP 57 is the first ever full cavity MP iron. Because of the cavity back, the MP 57 is considerably more forgiving than the MP-14 and the MP 32, and not only that, but the MP 57 also features a reinforcing muscle pad to enhance their feel.
Like other Mizuno models, the MP 57 also features the innovative Cut Muscle design to provide the ideal center of gravity location, as well as to provide excellent trajectory, a solid feel, and maximum ball control. Another feature Mizuno irons are well known for is their unique Grain Flow Forging process, and the MP 57 utilizes that feature with 1025E Pure Select mild carbon steel for giving the irons the soft, solid, consistent feel that golfers expect from a Mizuno forged iron. Also, the modified U-grooves give the ball the perfect spin for maximum workability, and because of the irons' rolled leading edge, cambered mid-sole, and rolled trailing edge, they are able to perform wonderfully on all types of terrain.
In addition, the Mizuno MP 57 is a handsome club with a nickel chrome plated finish, and they feature a True Temper Dynamic Gold Steel shaft or a Royal Precision Project X 5.5 Steel shaft along with a Golf Pride M-21 58 Round Grip.
Deals on MP-57 Irons on eBay
Deals On Amazon
The AWS Access Key Id you provided does not exist in our records.

More Mizuno Forged Iron Reviews
| | |
| --- | --- |
| | Mizuno MP-14 Forged IronsThe Mizuno MP-14 Forged Irons are the very clubs that helped Tiger Woods get to his first US Amateur Champs and then his first Masters. |
| | Mizuno MP-32 Forged IronsThe Mizuno MP 32 Forged Irons utilize the patented technology that Mizuno is well-known for in order to make yet another excellent set of clubs. |
| | Mizuno MP-60 Forged IronsWith the Mizuno MP 60 Forged Irons, Mizuno combines their Grain Flow Forging technology and their Cut Muscle technology in order to make a cavity back club with outstanding performance. |
| | Mizuno MX-25 Forged IronsWith the Mizuno MX 25 Forged Irons, Mizuno attempted to improve upon it's best-selling iron ever--the MX 23. |
| | Mizuno MX-950 Forged IronsThe Mizuno MX 950 Forged Irons are one of the finest clubs in a long line of excellent clubs. Designed for mid to high handicap players, the MX 950s have it all. |
| | Mizuno MP-53 Forged IronsThe Mizuno MP-53 has two main features to show. These are huge forgiveness and great appearance. |
| | Mizuno JPX-800 Forged IronsMizuno JPX-800 are forged irons with amazing forgiveness for crowds. |