Mizuno MP-60 Forged Irons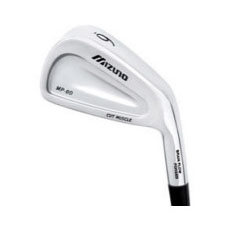 With the Mizuno MP 60 Forged Irons, Mizuno combines their Grain Flow Forging technology and their Cut Muscle technology in order to make a cavity back club with outstanding performance and a vast amount of forgiveness for a forged iron.
Forged from mild 1025 carbon steel, the MP 60s have the soft, solid, and consistent feel that Mizuno users know and love. They're also 4% larger than the MP 32 which works to create a 10% larger sweet spot and make the MP 60s all the more forgiving. In fact, many people who try out these irons often have a lot of trouble putting them down. Also, the MP 60s hit the ball somewhat higher in the long irons, and then produce a mid-trajectory in the scoring irons. And as always, the Cut Muscle design puts the center of gravity in the ideal location for a consistent ball flight.
Despite their ever-so-slightly larger size, the MP 60 has the traditional appearance that is favored by better golfers. They have a nickel chrome plated finish that looks gorgeous and shines in the sun on the golf course, and they feature the excellent True Temper Dynamic Gold shafts that most pros prefer, as well as the Golf Pride Tour Velvet grip.
Overall, the Mizuno MP 60 Forged Irons are designed with the better player in mind, but they still offer a good amount of forgiveness for those off center shots, which therefore makes them ideal for players with low to mid handicaps.
Deals on eBay for Mizuno MP-60 Irons
Deals On Amazon
The AWS Access Key Id you provided does not exist in our records.

More Mizuno Forged Iron Reviews
| | |
| --- | --- |
| | Mizuno MP-14 Forged IronsThe Mizuno MP-14 Forged Irons are the very clubs that helped Tiger Woods get to his first US Amateur Champs and then his first Masters. |
| | Mizuno MP-32 Forged IronsThe Mizuno MP 32 Forged Irons utilize the patented technology that Mizuno is well-known for in order to make yet another excellent set of clubs. |
| | Mizuno MP-57 Forged IronsThe Mizuno MP 57 is yet another forged iron in the Mizuno line. But just because there's a lot of them, doesn't mean that Mizuno values quantity over quality--quite the opposite, in fact. |
| | Mizuno MX-25 Forged IronsWith the Mizuno MX 25 Forged Irons, Mizuno attempted to improve upon it's best-selling iron ever--the MX 23. |
| | Mizuno MX-950 Forged IronsThe Mizuno MX 950 Forged Irons are one of the finest clubs in a long line of excellent clubs. Designed for mid to high handicap players, the MX 950s have it all. |
| | Mizuno MP-53 Forged IronsThe Mizuno MP-53 has two main features to show. These are huge forgiveness and great appearance. |