Nike CCI Forged Irons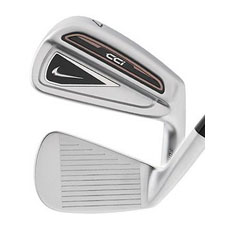 The Nike CCI Forged Irons are a true player's iron. They provide excellent feel, a low, cutting trajectory, and incredible workability. Forged from mild 1025 carbon steel to give them their great feel, these irons are certainly not intended for use by inexperienced or amateur golfers. The reason for this is that they're not very forgiving at all, despite their cavity back design.
The "CCI" stands for "Composite Cavity Insert" which means that Nike designed the club with a tungsten and composite insert that stretches the entire length along the backside of the club to increase forgiveness and feel. Also, according to Nike, the CCIs have a CNC milled face "for more predictable distances and shot patterns."
Speaking of feel, while the softer metal that Nike uses in their CCIs does give good feel to these clubs, it's a bit different than the sort of feel that many golfers are used to. Compared to the Titleist 690.CB, which is also a great club, the CCIs hit the ball lower, are a little less forgiving, and have a slightly harsher feel.
As far as appearances go, the Nike CCIs are attractive with a traditional appearance. While at first glance, they may look like Ping S59 rip offs, they do tend to grow on a person after awhile. They have a brushed satin finish to eliminate glare, which makes them stand out uniquely from other irons on the market. The standard shaft is a True Temper Dynamic Gold Steel with Nike Tour Velvet grip.
On the whole, the Nike CCI Forged Irons are an excellent club for low to mid handicap players. While they're not game improvement clubs, they're still sure to benefit those who have the skill level to use them.
eBay Deals on Nike CCI Forged Irons
Deals On Amazon
The AWS Access Key Id you provided does not exist in our records.

More Nike Forged Iron Reviews
| | |
| --- | --- |
| | Nike Forged Blade IronsThe Nike Forged Blades Irons are the first set of Nike irons which master club maker Tom Stites helped to design. |
| | Nike Pro Combo Forged IronsThe Nike Forged Pro Combo Irons combine the best that Nike has to offer in one complete set. The long irons feature a full cavity back for maximum forgiveness. |