Nike Forged Blade Irons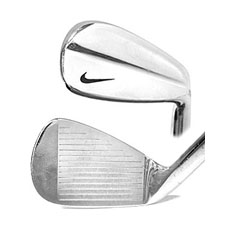 The Nike Forged Blades Irons are the first set of Nike irons which master club maker Tom Stites helped to design. As a result, these irons have excellent accuracy, loft, and precision, and because they're forged from the softest steel used in a golf club (1030 carbon steel) they have a really unique feel to them.
However, the two main drawbacks to the Nike Forged Blades is that their feel takes some getting used to. It's not the same kind of feel that golfers would expect from a Titleist or a Ping blade, because it's a little harsher. And in addition, these clubs are horribly unforgiving--so much so in fact, that mediocre shots often turn out worse than they would normally be. For that reason, the Nike Forged Blades are specifically intended for better golfers with a low handicap.
But despite a few drawbacks, the Nike Forged Blades do have their advantages as well. For example, their unique combination of U-grooves and V-grooves gives the ball a perfect spin, great trajectory, and predictable distance control.
And when it comes to appearances, handsome clubs are something Nike rarely lacks, and the Forged Blades are no exception. They're finished with a scuff resistant Tri-Plex nickel and chrome plating, which is then buffed with a satin gloss finish to make the Nike Forged Blades look simply stunning, as well as glare-resistant. They feature a True Temper Dynamic Gold Steel shaft and a Nike Golf Pride Tour Grip.
Overall, despite a few negatives, the Nike Forged Blades Irons are fantastic clubs for players who are able to handle them.
Nike Forged Blade Irons Deals on eBay
Deals On Amazon
The AWS Access Key Id you provided does not exist in our records.

More Nike Forged Iron Reviews
| | |
| --- | --- |
| | Nike CCI Forged IronsThe Nike CCI Forged Irons are a true player's iron. They provide excellent feel, a low, cutting trajectory, and incredible workability. |
| | Nike Pro Combo Forged IronsThe Nike Forged Pro Combo Irons combine the best that Nike has to offer in one complete set. The long irons feature a full cavity back for maximum forgiveness. |