Nike Pro Combo Forged Irons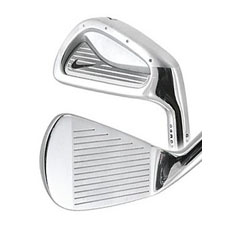 The Nike Forged Pro Combo Irons combine the best that Nike has to offer in one complete set. The long irons feature a full cavity back for maximum forgiveness. While they do hit the ball a little on the high side, the cavity back design provides a larger sweet spot, and the soft carbon steel gives them an incredible feel. Plus, the have astounding accuracy because of the high MOI. The mid irons in the Pro Combo set have a muscle cavity design to give them the ideal blend of forgiveness and accuracy, and the short irons are blades to provide maximum workability.
For more advanced players, the fact that the Pro Combo irons hit to ball so high is disappointing. Especially when combined with the fact that in the case of these irons the high trajectory does not equal better distance. When compared with a set of Ping i3's, the two sets hit the ball practically the exact same distance. However, the Nike Pro Combo irons did give better workability than the Ping i3's.
As per Nike's usual standard, the Pro Combo irons are a handsome set of clubs indeed. They have a classic style with no odd angles and a satin brushed appearance that makes them look gorgeous. The standard shaft is the Nike Speed Step Steel shaft with a Golf Pride Tour Grip.
On the whole, the Nike Forged Pro Combo Irons take the best of Nike's forging technology and combine it into a set that's ideal for low to mid handicap players who would like to improve their game.
eBay Deals on Nike Pro Combo's
Deals On Amazon
The AWS Access Key Id you provided does not exist in our records.

More Nike Forged Iron Reviews
| | |
| --- | --- |
| | Nike CCI Forged IronsThe Nike CCI Forged Irons are a true player's iron. They provide excellent feel, a low, cutting trajectory, and incredible workability. |
| | Nike Forged Blade IronsThe Nike Forged Blades Irons are the first set of Nike irons which master club maker Tom Stites helped to design. |