TaylorMade RAC MB Forged Irons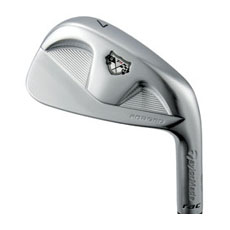 TaylorMade RAC MB Forged Irons are a unique set of golf clubs that are designed for power, feel, and feedback. These irons are not overly forgiving, but they perform quite well in the hands of a capable player. What makes them most unique, however, is the coin forged clubhead that TaylorMade prefers. After using the traditional method of double striking, the forged steel is then squeezed between two dies in order to mold the steel into the precise shape of a clubhead.
In addition, the MB forged irons feature feel pockets located at the back of the club to give the soft, solid feel that better golfers know and love, and the compact shape combined with the high, forward CG (center of gravity) work together to provide the ultimate in workability. They give a low launch angle in order to maximize precision and distance, and unlike the Nike CCIs with their high trajectory which makes it a little more difficult to gain that measure of control. Also, with the MBs' narrow sole, they perform well on just about any lie, and the blunt edge reduces digging.
Best of all, not only do the MB forged irons perform exceptionally, but they feature the classic appearance that most golfers prefer with their thin topline, minimal offset, and their smaller head size and profile. They have a beautiful highly polished chrome plated finish, and they feature True Temper Dynamic Golf Steel shafts with Golf Pride Tour Velvet grips.
Overall, the TaylorMade RAC MB Forged Irons are a great set of clubs for the experienced golfer who's looking for power, feel, control, and a stylish appearance all in one set of clubs.
eBay Deals on TaylorMade RAC MB Irons
Deals On Amazon
The AWS Access Key Id you provided does not exist in our records.

More TaylorMade Forged Iron Reviews