Wilson Staff Tour Forged Irons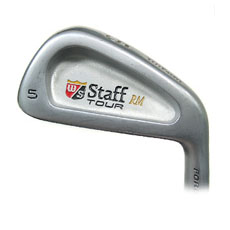 With the Wilson Staff Tour Forged Irons, Wilson once again showed themselves to truly understand the benefits of feel when it comes to forged irons. While they're not new clubs, the Tour Forged irons can still compete with some of the best brands in golf today. Forged from soft carbon steel, the Tour Forged irons are ideal for the better player who wants great feel and workability.
Because of their thin sole and compact head design, the Tour Forged irons help to inspire confidence at address. They feature a muscle back design with a unique addition to it, as well. A bulge in the muscle back helps to give more velocity and distance from the clubs. They are, however, not especially forgiving, so the Tour Forged Irons are only intended for use by better players. Many golfers who used them compare them to Mizuno clubs as far as performance goes, but with a much better feel and more reliable feedback.
And true to the demands of better players, the Tour Forged Irons have the traditional appearance that's most sought after by serious golfers. They have a semi-squared toe design, which features traditional elements typical of Wilson Staff. Plus, with their chrome finish, the irons look simply amazing.
All in all, the Wilson Staff Tour Forged Irons are an excellent set of irons for low handicap players who want the feel and workability of a forged iron, and who are competent enough to not need a highly forgiving game-improvement set of irons.
Wilson Staff Tour Irons Deals on eBay
Deals On Amazon
The AWS Access Key Id you provided does not exist in our records.

More Wilson Forged Iron Reviews
Wilson Staff FG-17 Forged Irons

Made in the early 1980s, the Wilson Staff FG-17 Forged Irons are still considered one of the best sets of forged irons ever to hit the market for low handicap golfers.