Yonex Golf Ezone Forged PB Irons 4-PW Steel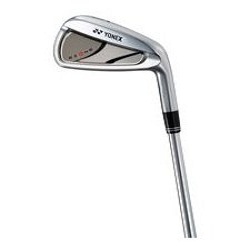 This club is suitable for players, who request an easier and more comfortable forged iron.
It has a mid-sized forged head, offset flow design and pocket cavity back. It gives you a great feel and control, especially for the mid-handicap players with ambitions.
This club has an iron CoG (center of gravity), which should reposition its sweetspot (your ball hitting is more how you like it).
Another interesting thing is 'semi-goose neck'. It gives a player a clear view and more ball control.
Its purpose is bring more forgiveness to forged irons… it has a good combination of forged feel and forgiveness, what is quite rare. The only bad thing could be the price.
eBay Deals on Yonex Ezone PB Irons
Deals On Amazon
The AWS Access Key Id you provided does not exist in our records.

More Yonex Forged Iron Reviews